Aria Dupree is a bad-ass demon hunter whose senior year could be her greatest challenge yet.
Aria is traveling the world, closing gateways to the demon realm while on the hunt for the demon who killed her mother. In Red Prairie, TX she has two goals: end the demon she senses there and graduate high school. Both prove a challenge as high school is…well, high school, and the demon is a bit different than the ones she's used to. But, Aria can't let surprising alliances and cute boys distract her from getting revenge for her mother's death.
Demons Lie (A Girl's Guide to Witchcraft and Demon Hunting) is a witty, fast-paced action. It's easy to relate to the main character–or, I imagine I could relate if I were a demon hunter with a bone to pick. Aria is clever and sassy, I love the banter between the characters. Can't wait to read the next in the series.
I received an ARC of Demons Lie in exchange for an honest review
Get Demons Lie (A Girl's Guide to Witchcraft and Demon Hunting #1) from Amazon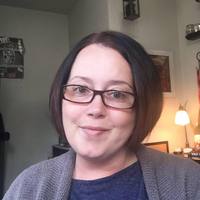 Sherry is the author of over a dozen novels for teens and young adults including the best selling Stolen Empire series. She can often be found browsing her local bookstore with a large white hot chocolate in one hand and a towering stack of books in the other. That is, unless she's on deadline at which time she, like the Loch Ness monster, is only seen in blurry photographs.
Sherry also writes contemporary romance under the pen name SJ Noble. You can find her at her official website, or stalk her on her Facebook page